Forest Fox's unique One Man Show is backed by state of the art studio recordings done with his world renowned musicians and sound engineers.
Jeff Pevar
---
—Guitar/ Bass/ Lap Steel/ Mandolin/Sound Engineer
World renowned guitarist, multi-instrumentalist, composer, producer, arranger and vocalist, Jeff Pevar was inducted into the NY Blues Hall of Fame in 2016. Jeff has recorded and performed with some of music's finest, including Ray Charles, James Taylor, Bette Midler, Crosby, Stills and Nash, Joe Cocker, Kenny Loggins, Jimmy Webb, Carly Simon, David Foster, Marc Cohn, Laura Nyro, Rickie Lee Jones, Phil Collins, Alan Parsons, Jefferson Starship, Meatloaf, David Wilcox, Chaka Khan, Shawn Colvin, Bill Evans, Grateful Dead's bassist, Phil Lesh & Friends, Aztec Two Step, and many others.
He has toured throughout the globe, performing at the Montreux Jazz Festival, North Sea Jazz Festival, The Royal Festival Hall in London, Carnegie Hall in NYC, and countless more.
When he's not on the road, Jeff is busy in his own studio producing music for other artists and writing music for TV and film. Jeff and his wife Inger have been streaming concerts from their home The Stone House in Ashland, OR, performing their original music and covers to thousands of guests who frequent these shows online through YouTube, Facebook live and their web portal.
Both from Connecticut, Forest Fox and Jeff Pevar have been friends since Jeff was just 15-years old.
Doug McKeehan
---
—Keyboards/ Engineer
Doug McKeehan has been a fixture on the Bay Area music scene for the past 30 years, as a performer working as a pianist, accompanist, and music director in venues such as the Fairmont Hotel, the Great American Music Hall, Yoshi's, and Herbst Hall. As a producer and recording engineer he has produced noted Bay Area artists such as Joyce Grant, Jack Pollard, and Forest Fox as well as international artists such as Chinese gu zheng virtuoso Zhao Hui and the renowned Pakistani vocalist Shafqat Ali Khan. An eclectic musician with diverse tastes, he draws from many styles, classical to rock, jazz to R&B.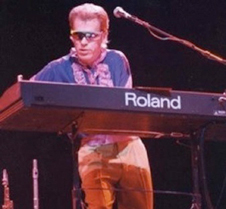 Byron Allred
---
—Pianist/ Composer/Engineer
1990 Bammie award winner with Todd Rundgren & Utopia. Credits: Steve Miller Band, Norton Buffalo, Dave Martin House Party, Movie Soundtrack: Night of the Comet.
Carlos Reyes
---
—Violinist
He made his debut on harp with the Oakland Symphony and on the violin with the Oakland Youth Symphony at just fourteen years of age. He has worked in the professional recording industry for commercials, solo artist and instrumental background music for the acclaimed children's shows "Sesame Street" and "Villa Alegre."
Mick Mestek
---
—Drums/Percussion
Mick Mestek toured with Tower of Power for three years and recorded the 1987 album "Power". Mick's many touring and recording credits include Chris Cain Band, Etta James, Tracy Nelson, Buddy Miles, Pete Escovedo, Charlie Musselwhite, Omega, blues guitarists Tommy Castro, Daniel Castro, Ron Thompson, Roy Rogers, bassist/producer Curtis Ohlson, Rosie Gaines, guitarist/composer Ray Obiedo and a who's who of Bay Area favorites including The Hoodoo Rhythm Devils, Tortilla Soup and Manzo. Mick got back together with Tower of Power, for the band's 40th anniversary celebration at The Fillmore.
Ken Cooper
---
—Lead Guitar/Singer
A well-known and respected name throughout the Bay Area, Ken Cooper can be seen every week performing solo or with one of his great bands. He plays on big concert stages as well as intimate settings.
Donn Spindt
---
—Drummer/Singer/Vocal Coach
At a very young age, drummer Donn Spindt was playing under the bright lights as a founding member of the vocal pop sensation, the Rubinoos. He has played internationally with many bands, including The RaveUps, Jonathan Richman, Andy Kaufman / Tony Clifton, Rodney Dangerfield. With the Rubinoos, he played on Dick Clark's Bandstand as well as in the opening act for the Elvis Costello US Tour.